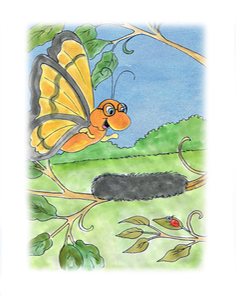 "Sheb was a very woolly caterpillar. How woolly was he?  To say that Sheb was "very woolly" is like saying the moon is "very high" or the ocean is "very wet." Sheb was so woolly you could not see his feet. Sheb was so woolly you could not see his face. Sometimes Caitlyn would be talking to Sheb and, halfway through the conversation, she would find she was talking to the wrong end!" 

Who Kidnapped Sheb Woolly? brings us back to the world of Caitlyn, and introduces us to Sheb, who is a (very!) woolly caterpillar. Sheb dreams of becoming a butterfly so he can fly above the world and see all the sights that Caitlyn has told him about. But when Sheb is almost ready to become a butterfly, he disappears! Was he kidnapped? Who could have done it? Where will they find him? And how does the Fairly Ninja Squad enter into the picture?
If you can't wait for the book to be delivered, you can read the entire story online.
Who Kidnapped Sheb Woolly? was written by Debra Tanguy Herlocker and Jack Herlocker, and illustrated by award-winning artist Valerie Bouthyette. Young readers will enjoy reading Who Kidnapped Sheb Woolly? by themselves; beginning readers may need some help, but will enjoy the rich illustrations throughout the book.