"Long ago, when the world was still very new, there lived a little caterpillar named Caitlyn."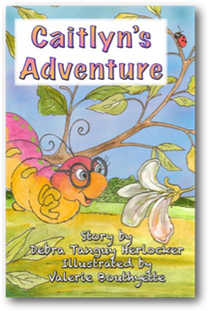 Caitlyn's Adventure is the story of a little caterpillar who knew she wanted to see everything  in the world, but could only see her world of leaves and twigs and blades of grass. Then one day she discovers something she has never seen before, which causes her to leave the world she has always known — and events start to unfold that will change the lives of many others.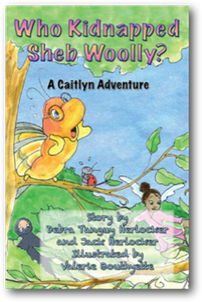 Who Kidnapped Sheb Woolly? continues the excitement and mystery of the first book with the introduction of Sheb Woolly, a (very!) woolly caterpillar. It has a fascinating cast of characters.
For only $10 each on Amazon.com (or $9 each from CreateSpace.com with coupon code) these books make great gifts for early readers (or any age) who like a good story with great illustrations. You can read the entire books online, but the physical books are better.
The Caitlyn series was written by Debra Tanguy Herlocker, and illustrated by award-winning artist Valerie Bouthyette. Young readers will enjoy reading Caitlyn's Adventure and Who Kidnapped Sheb Woolly? by themselves; beginning readers may need some help, but will enjoy the rich illustrations throughout the book.
Deb enjoys meeting people who love books, and has appeared at book fairs and spoken at schools in the Lancaster County area.