An Interview with Debra Tanguy Herlocker, author of Caitlyn's Adventure and Who Kidnapped Sheb Woolly?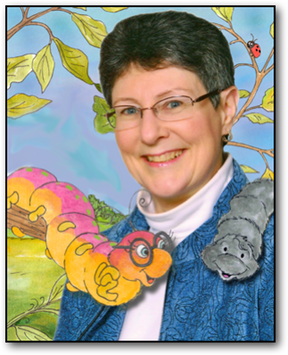 Debra Tanguy Herlocker has been writing creatively since grade school, using pen and paper to make her imagination stay still long enough to look it over. Her nieces and nephews got to listen to her stories when they were little; that was when Caitlyn the caterpillar was born.
Debra lives in central Pennsylvania with her husband, Jack, in a house with a backyard filled with "special" (and not always very bright) wild neighborhood creatures.
She is involved with her neighborhood church and community, and even though she does not put a "religious" theme in her stories, she always tries to create the sort of moral examples that were passed along to her when she was growing up. 
Q. Please summarize Caitlyn's Adventure for us in one sentence.
A. It's the story of Caitlyn, a caterpillar who is so in love with all the beauty in the world that she wears glasses to take it all in, and who finds something more beautiful than anything she's ever seen before, and then finds the owner, who gives her something that lets her see even more wonderful things than she ever saw before. (Okay, that's a run-on sentence, but even a short book is hard to describe in one sentence!)
Q. What led you to write Caitlyn's Adventure in the first place?
A. I wanted my nieces and nephews to have an example of what there is to find beyond our little piece of the world here in central Pennsylvania. When I wrote it, several years ago, none of them had been much beyond their own neighborhoods. Since then, some have been to Paris, London, Italy, Canada, Texas, Colorado, California, Louisiana — they've really gotten out and seen what the world has to offer. And I'm so proud of all of them!
Q. Caterpillars and fairies are unusual combinations in a story. What made you put them both into Caitlyn's Adventure?
A. I have no idea! It just made sense at the time. I knew I wanted Caitlyn to undergo a transformation, and a caterpillar seemed logical for that. Fiona had to be someone who had a crown and could grant wishes, and who better than a fairy princess?
Q. What message, if any, would you like the reader to take away from Caitlyn's Adventure?
A. Keep looking for your heart's desire. It's out there somewhere. 
Q. Do you have any plans for future Caitlyn stories?
A. I have a few thoughts on characters Caitlyn can meet, now that she's totally mobile. One is a robin named Henrietta, who is a bit scatter-brained but is doing her best to build a nest she can be proud of. She was inspired by a robin in our yard who couldn't fly and chew worms at the same time. Another character is a gargoyle named Gunther, who really belongs to my husband. Gunther is actually a stuffed animal, but in the story, he's a little gargoyle who doesn't fit in with the other gargoyles, but finds he has special gifts that come in handy. And then there's Sheb Wooly, who's a wooly caterpillar who doesn't want to grow up and be a butterfly; I figure Caitlyn will want to sit him down and have a talk. (Actually, Sheb is a real caterpillar that belongs to my father-in-law, who rescued him just before winter; Sheb sits in a glass jar and seems to have no interest in starting his cocoon, which seems a little odd, so there must be a story in there somewhere.)
Q. Was this the first time you worked with Valerie Bouthyette, and if so, how did you like working with her as an illustrator?
A. I still haven't met Valerie; all our collaboration was done over the Internet. But I know she was the perfect illustrator for Caitlyn when I first saw what eventually became the cover. She'd captured Caitlyn's femininity and sense of wonder perfectly. I loved how she used color to set the mood of a scene. And Caitlyn's buddy, the little lady bug who is in almost every illustration is totally her creation — I have no idea where it came from, but I love it!
Q. What would you say to someone who felt inspired to write a story after reading Caitlyn's Adventure?
A. It used to be that you had to be very lucky, or know someone, or be rich to get a book published. But these days, if you have a book or a short story or anything that you want to express, you can get it published via the Internet. You won't get rich, but you won't go broke, either. And maybe someone will read what you wrote and feel something of what you felt.