Interview with Valerie Bouthyette, 
illustrator of Caitlyn's Adventure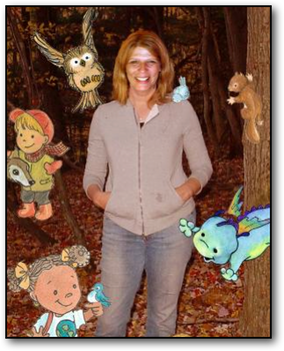 Valerie Bouthyette began her creative career when she picked up her first crayon. An award-winning graphic and fine artist, Valerie finds illustrating for children to be most rewarding. Valerie blends childhood memories, imagination, and touch of magic to bring authors' words to life.
An advocate for the power of art in the community, she was the founder of CATS (Cultural Arts of Tanytown), which offered cultural arts experiences for a rural community, and the Pocono Mountain Arts Council in Tobyhanna, PA.
Valerie is currently completing a teaching degree in Elementary Education at Elmira College. Her studio is located on a small farm in Pine City, NY.
Q. How did you come to illustrate Caitlyn's Adventure?
A. Deb's husband, Jack, found me on a site called Guru.com. It's a place where people looking for a particular skill set can find freelancers willing to do small or large jobs. He advertised for an illustrator of children's stories, and I was one of the people who submitted a bid.
Q. What process did you go through to create the illustrations?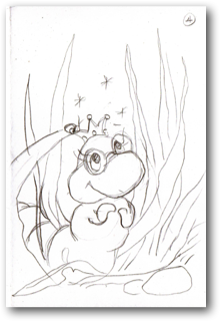 A. First, I tried to visualize Caitlyn based on just the first page of the story, which was all I had at first. I saw her as very feminine, with long eye lashes and big blue eyes. Her pink, yellow, and orange colors followed from that.

Once the first pencil sketch was approved, I colored it in by hand. I can illustrate on the computer or the old-fashioned way; for this project, the Herlockers wanted the hand-drawn look. Then it's just a matter of scanning the paper at high resolution and emailing the file.
Q. How did you decide what scenes to illustrate?
A. I didn't. Jack (who was kind of the editor on this project) gave me a treatment with the text that would be on the page facing the drawing, along with a suggestion of what the drawing should be. Nothing really detailed, more like, "Caitlyn wearing crown" or "Fiona in storm, losing crown." Then I came up with pencil sketches to see if what I saw in my mind matched what they were thinking. Once I got the okay, I did the color versions.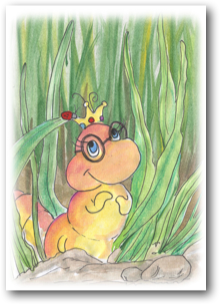 Q. The lady bug, who is in almost every illustration, is never mentioned in the story. Where did she (he?) come from?
A. She. I like to add whimsical bits to my illustrations; I think it makes them more fun and interesting. The lady bug was in the first sketch I did, and after that she just seemed like a natural to add to the rest of the illustrations.
Q. Have you done other books?
A. Quite a few. Rather than try to remember them all, I'll just point you at my website: www.vbouthyette.com. It has the books I've illustrated and samples of a lot of my work.
Q. You've also written a book, correct?
A. Hey, nice chance for a plug — thank you! Yes, it's The Christmas Wish, and it's available on Amazon.com. And I did the illustrations as well, not surprisingly.
Q. How do you pronounce your last name? It looks French.
A. Boo-tee-yet. It's my husband's French-Canadian name. I'm originally from Long Island, NY.
Q. Will you be illustrating future Caitlyn stories?
A. The Herlockers haven't asked me yet, so I don't know. But I hope so.