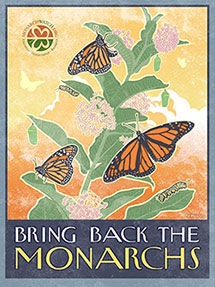 Those of you who have read the books [SPOILER ALERT!] know that Caitlyn turns into a monarch butterfly at the end of Caiylyn's Adventure. So we tend to be sensitive to what is happening with monarchs in the real world.
Monarch populations in North America have been declining for the last decade. Organizations such as MonarchWatch.org have been working to reverse that trend. Recently a new group launched a Kickstarter project to bring awareness to more of the general public and encourage the planting of more milkweed, on which monarch caterpillars and butterflies depend for their lives. So watch the Moving for Monarchs project video on Kickstarter and see if it is something you can get behind. 
We did! We are now project sponsors.
When we first got married, my new husband Jack promised that he would tell me when I had a hare-brained scheme, and then do what he could to help me realize it. 
A few weeks ago I reminded him of his promise and he looked at me suspiciously, but confirmed he did indeed remember. So I said I wanted to send a copy of Caitlyn's Adventure and Who Kidnapped Sheb Woolly? to Prince George. You know, the new son of Prince William and Princess Katherine. Of Great Britain. That Prince George. (I mention the details only because my husband looked at me like he didn't know what I was talking about, so maybe you won't either.)
Once we cleared up the intended recipient, he asked me what the intended goal was. I said that all I wanted was a thank you note, at some point, from Kensington Palace. He relaxed a bit and started to show some enthusiasm for the "project." (He called it a "project." I wanted to send a couple books to a kid. I love him dearly, but sometimes Jack over-thinks things.)
He asked if I had an address. A real one, with a postal code and everything. I was sure that we could find an address on the Internet (you can find almost everything on the Internet — you found this blog, right?) and sure enough, there on George's birth record, was his parent's address, Kensington Palace, with postal code.
So I autographed copies of Caitlyn and Sheb and dedicated them to Prince George. Meanwhile Jack looked up what it would take to send children's books to the United Kingdom. It turns out the the US Postal Service makes it extremely easy to ship things like books overseas. They even help you with the customs form, not just the postage. And let you track it, with emails to fill you in as your package makes its way.

After the books arrived in the UK, only five days after we shipped, we knew it would be a long wait. Prince George had to have gotten thousands of gifts, plus it turns out he and his parents are staying at their house in Anglesey. I said, worst case, they give the books to some local school; at least kids will be reading them. Jack said, no, worst case, the Royal Bomb Squad takes them out back and blows them up. (As I said, I love him dearly, but…)
So last Saturday I was surprised when Jack got the mail and delivered into my hand the envelope below: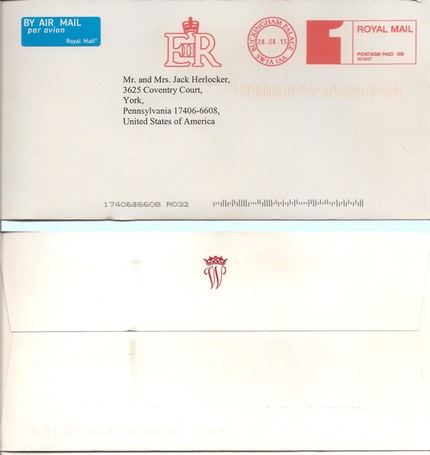 With a lovely card: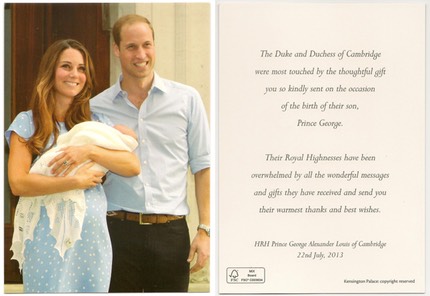 Mission accomplished! Or whatever you say when a project is done.